Open call result
We are delighted to announce that Pedro Moreira and Rui Mourão have been selected two join our Utopian adventures at Wozen Studio.
Pedro Moreira is an online entity and internet based artist with a practice centered on questions of the meaning of the world "reality", and how the ways in which it is consumed blurs the lines between virtual and "real" space and identity.
Rui Mourão is a visual artist and researcher working with video and performance. He has a Postgraduate in Digital Visual Cultures and a Master in Anthropology.
---
To celebrate the announcement of its fourth edition, the
Z.U.T.
residency is organising a weekend of events. On Saturday the 28th and Sunday the 29th of April, artists Inês Neto dos Santos, Louise Ashcroft, Thomas Langley and curator Alice Bonnot collaborate for a unique weekend of food, performance and exhibition.
BRUNCH AND DINNER
30 tickets, £25
Artist Inês Neto dos Santos creates a multi-sensory sketch of two seasonal ingredients, grapefruit and radish. By exploring gestures, flavours, colours and textures in the shape of four edible installations, dos Santos blends real and fictional narratives of sour, crunchy, pink and juicy. Artist Thomas Langley designs a site-specific environment that reconsiders the ways of eating.
PERFORMANCE
Artist Louise Ashcroft responds to the ingredients of Inês' menu by creating 'amuse-bouche' performances. Ashcroft's performative platter tells the history of the world, one bite at a time.
EXHIBITION
Works from the participants of the fourth edition of the Z.U.T. residency.
Limited editions
available to view and purchase.
Details:
• Address: Cultural Space, White Post Café, 92 White Post Lane, London E9 5EN
• RSVP
here
.
• Performances are part of the supper clubs, you need a ticket to attend.
• If you don't participate in the supper clubs, you can still visit the exhibition by appointment.
• All money raised from the events will cover the residency's cost enabling this exciting project to continue.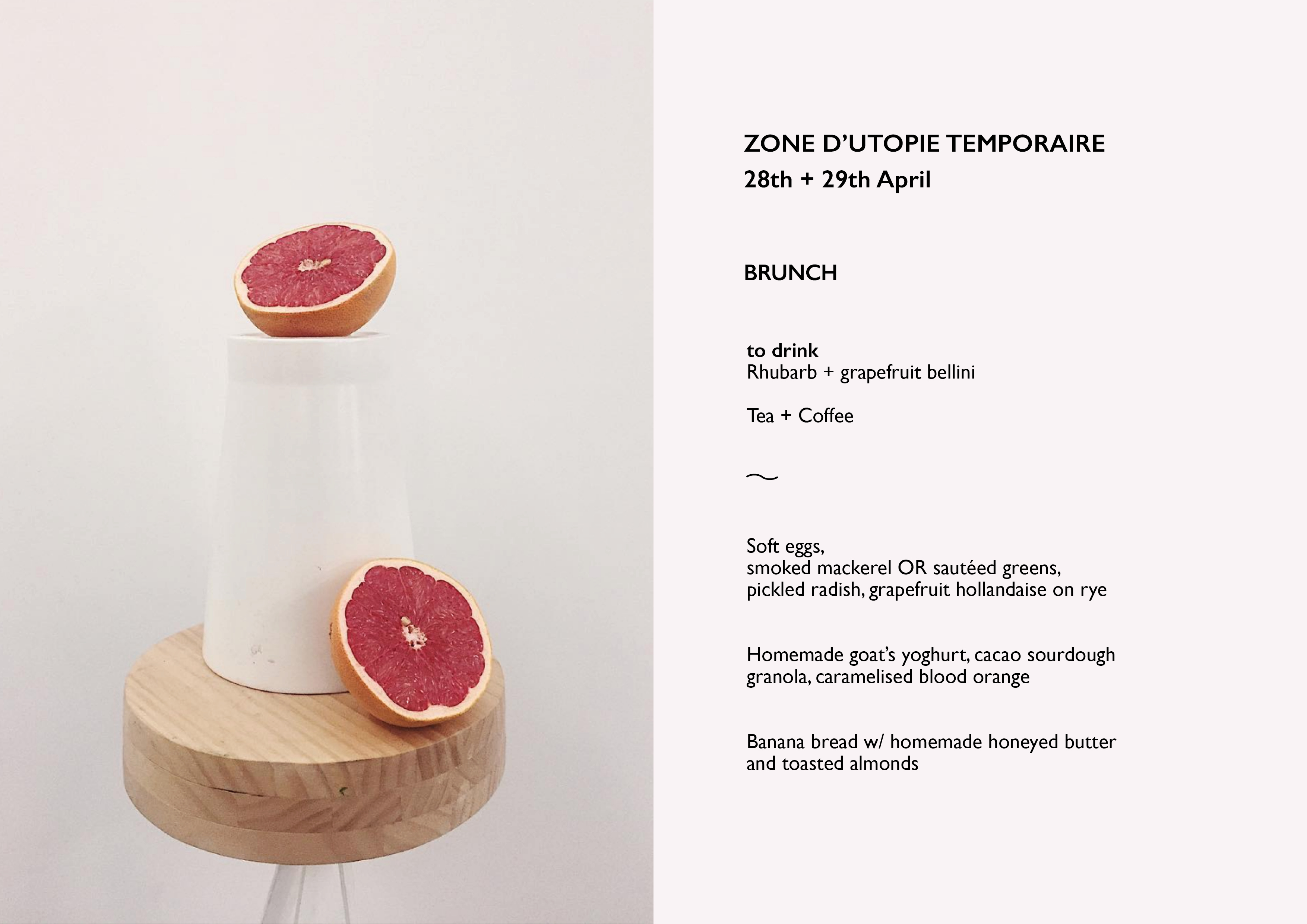 ---
Due to public demand the application has been extended to 7 June midnight.
Criteria for selection:
Applicants must:
• Be Portuguese and based in Lisbon,
• Consider themselves to be working within contemporary fine art practices,
• Be interested in responding to the theme of Utopia,
• Be open to collaborative approaches.
Terms and conditions:
• Applicants must arrange for their own accomodation for the residency duration,
• The minimum age to participate is 18 years old but ideal candidates would have a Master degree in fine art or equivalent experience,
• Applicants should be available for interview via Skype,
• Application deadline: 7 June midnight,
• The result of the open call will be announced on the website and social media accounts of the residency and the selected artist will receive an email.
Application process:
• Send an email to
zutresidency@gmail.com
with a PDF containing the following information: name, surname, nationality, date of birth, email, website, artist statement, biography, 5 to 10 images of previous works, responses to the questions below.
• Questions: 'Why are you applying to the residency?', 'What is your interest in the notion of Utopia?' and 'How did you hear about us?'.
We are also looking for Portuguese theorists and/or guest speakers interested in discussing the theme of Utopia.